About Us
The South Baldwin Volunteer Fire Company will strive to maintain the trust and support of our community by providing skilled firefighters and first class state of the art equipment. We will develop a highly effective and competent leadership structure that focuses on emergency services, education of the public and financial responsibility. We will prosper as an organization through membership growth, excellent mutual aid relations and provide an enjoyable environment for members, their families and our community.
---
---
South Baldwin's Past Chiefs:
Fred Borneman - 1959 to 1961
William Bracken - 1962 to 1976
C. Raymond Dee - 1976 to 1981
Paul Pantages - 1982 to 1983
Butch Dee - 1984 to 2000, 2003 to 2005
Bob McKay - 2001 to 2002
Joe Cambest - 2006 to current
History
---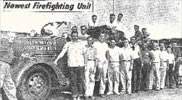 On March 17, 1959 in an old farm in Baldwin Borough, a group of residents concerned for the need of fire protection in the area started a proud tradition. The South Baldwin Volunteer Fire Company has grown and prospered due to the hard work of numerous individuals both past and present.
In its earlier years, the South Baldwin Volunteer Fire Company was a small two door garage with little more than dirt floors. Soon, in 1967 the members began renovations on the station by adding three bays and a back room. Most of the cost and labor of the new station came out of the members' personal funds.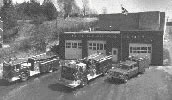 In 1970, the first junior firefighter program started with three members under the age of 18. Since that day, many firefighters start as junior firefighters. In 1978 the Fire Company decided to build a Social Hall behind the firehouse. Ten years after construction the Fire Company paid off the twenty-five year loan required for the completion of the structure. A few years after construction on the Social Hall was completed, a truck committee was arranged to investigate prices for two brand new trucks. In 1991, the Fire Company bought two E-1 Hush Pumpers and in 1992 members of the Fire Company flew to Florida in order to drive 104 Engine and 104 Rescue back to the station.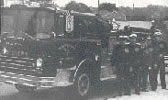 Each truck came with several hundred feet of five inch supply line, making South Baldwin one of the first stations in the South Hills to use that type of hose. In 1997, a first responder program was started with Baldwin EMS. The First Responder program is comprised of firefighters with EMT qualifications who respond to medical calls within the fire district along with EMS. As a result of the inception of the first responder program, South Baldwin purchased a great deal of medical supplies.
In 1997, the fire company purchased a Ford F-350 Squad to be used for hauling bulk material and transporting extra manpower.
In 1998, South Baldwin purchased a new GMC Command
Vehicle.
---
Thanks to the Borough of Baldwin, the community, and the members that have spent the time and energy for making the South Baldwin Volunteer Fire Company what it is today.