Station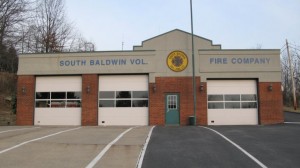 South Baldwin Volunteer Fire Company is located at 5311 McAnnulty Road. It has served the South Baldwin community since 1959 and has a rich history.
Our Fleet
South Baldwin Volunteer Fire Company has a fleet that consists of an Engine, Rescue, Squad, Command, and a Trailer.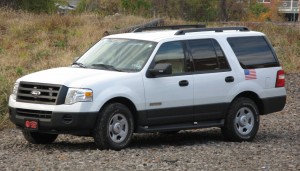 104 Command
104 Command is a 2007 Ford Expedition, it has all the necessary equipment to run a command post on a fire ground. It also contains two self-contained breathing apparatuses (SCBA), radios, and a variety of hand tools.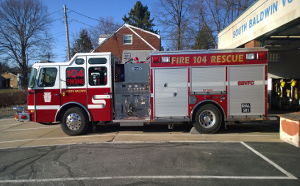 104 Engine
2013 E-One Typhoon Rescue Engine, with a 6 man cab, 780 gallon water tank, and a 1500 gpm pump. 104 Engine has 1000 feet of 5 inch supply line, multiple attack lines, and a portable deck gun. It carries a FLIR Thermal Imaging Camera, HydraRam Rabbit Tool, Partner K12 and Echo quick vent saws. It also carries positive and negative pressure fans, Holmatro Combi Tool, and a wide variety of confined space rescue equipment.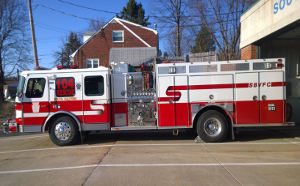 104 Rescue
1992 E-One Hush Rescue Pumper, with a 8 man cab, 500 gallon water tank, 30 gallon foam tank, and a 1500 gpm single stage Hale pump. 104 rescue has a 5 inch intake supply line with multiple attack lines, and removable deck gun. It carries Holmatro Rescue tools, full set of airbags, rope rescue equipment and other rescue equipment. It has a 6.5 KW generator with remote start in the cab and on the pump panel.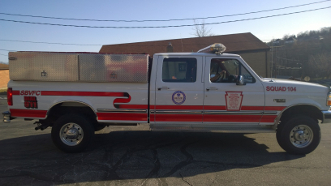 104 Squad
104 squad is a 1997 Ford F350 with a crew cab. It is mainly used as a utility and transport truck for the Fire Company. It has tool boxes on both sides in the rear that contain hand tools, medical equipment, and an Automated External Defibulater (AED). This vehicle is second to respond to all brush fires, due to its capability of 4 wheel drive and space in the rear bed.