Fundraising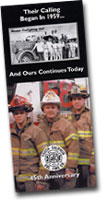 Each year, the South Baldwin Volunteer Fire Company sends a fund drive request to each resident and business within our fire protection area. Our goal is to provide the very best fire protection to the residents and businesses in our area. You also have the option, through payroll deduction, to donate through the United Way. Our 4 digit United way number is 3536.
Every donation that the residents, our customers, send to us is used in a variety of ways. We provide, in addition to Firefighting, Fire Protection and Awareness, Training and Vehicle Maintenance. This donation will provide to you fire and rescue protection 24 hours a day, 365 days a year.
Your donations also help us to purchase New and Improved equipment. This equipment is important in a number of ways. The first one is that the most up to date equipment provides improved safety for your firefighters. This allows us to go into any situation confident that this equipment that you helped us to purchase will keep all of us safe. The second, and most important reason, is to provide safety to you, our residents, our customers, our neighbors, and in may cases, our friends.
We want to offer our thanks to our residents that donated to us in 2012. Our heartfelt thanks go out to each and every person that donated.
For more information on how you can contribute, call us at 412-655-3555 or send us an e-mail.